Decoiler straightener Feeder 3 IN 1 are composed of a Decoiler Straightener unit and NC Servo Feeder unit and are particular suitable for profiling, stamping punching line, laser cutting and many other machining processes. It used to uncoiling metal strip from coil stock, straightening it to required flatness and feed it to press machine for stamping process.Thanks to a well-knit body and advanced mechanical structure, it can easily handle coil stock up to 10tons.With YASKAWA servo motor and drive and MITSUBISHI PLC, the feeding line can achieve the very accurate feeding ±0.15mm. Moreover, the whole compact feeding system is only 4.5m length, which will save a lot of workspace for your press workshop.
Decoiler Straightener Feeder 3 IN 1 with compact design are preferred to be used in case of only small available space as well as in case of less delicate coil material with big material square. They normally are used at middle-sized feeding lengths and middle-sized number of press strokes per minute.
Features of each parts of compact feeding lines
1. Automatic loading coil car
Automatically lift the coil to the mandrel of the Decoiler machine with loading coil car. And then the mandrel can expand and clamp the coil.
a) Loading capacity 5T-10T
b) Up-and-down movement the coil car by hydraulic cylinder
c) Horizontal movement by hydraulic motor
d) 2 Coil well-knit, no disperse


2. Decoiler:
a) Coil loading type: Single head with cantilever
b) Max. loading capacity: 5ton-10ton
c) Expansion type: Hydraulic
d) Brake type: pneumatic, stable and safe, also can prolong lifetime of the power system
e) Mandrel hydraulic expansion system. The hydraulic station provide power to drive the hydraulic cylinder to expand & draw back the mandrel to clamp coil or release the coil.
f) Press arm device to hold the strips, preventing coil loose. Further more, the press arm equipped with a PU roller to hold the strips, don`t scratching strip surface.
g) Support arm device. Driven by hydraulic-cylinder, it was use to guide and support strips, Further more, several sets of rollers installed in the device, and all rollers were chrome plated, the surface is very smooth, preventing scratching material surface.
h) Limit arm device, clamping coil in width direction, preventing coil collapsing when coil were too narrow. Further more, the width between two back gauge arms were designed adjustable by operate the manual wheels, coil width range is 70mm-1000mm.
i) Machine equipped with hydraulic station, providing oil pressure to drive the mandrel expansion & contraction and hydraulic cylinder.
j) Sensor device: electric eye loop control system, stable, safe and long lifetime. With the electric eye loop control system, the decoiler release strips automatically.(you can refer to the following image)

3. Straightener-Feeder

a) Structure: Servo motor driven, synchronous belt transmission, gear transmission
b) Servo motor and driver: Yaskawa, Japan
c) Straightening roller: 9 (upper 5/down 4)
d) straightening roller diameter:φ88mm
e) Pinch roller: 2pcs
f) Feeding roller: 2pcs

All the roller material is GCr15, after quenched, high frequency annealing, the hardness is HRC58°-60°and then precision polishing.
g) Gear: Material adopted 40Cr. The center quenched, teeth high frequency annealing and precision polishing.
h) Straightening adjustment: eccentric turbine worm adjustment, dial indicator display; Electric adjustment can be provided also
i) The entrance clamping roller: 2pcs
j) Release type: pneumatic
k) Feeding control: get signal from press encode or cam box, and controlled by PLC and display on HMI.
l) Material input guide roller: 1 group (manual adjustment)
m) Coil Inlet device. It equipped with chrome-plated rollers and guided strips to go through the straightening part.
n) Straightening device. It was mainly to press and flat coil head and end of the coil. Usually, the coil head is curvy, if without this device, the material is hard to go through the straightening part. But with this device, when the strips comes then entrance of the straightening part, the tip flatness device and press and flat the coil head and go through straightening device smoothly.
o) Handwheel: The operator crank the manual handle to adjust the accuracy of the straightening part.
p) Outlet bracket: assistant support material device. It was mainly used to guide strips from straightening part to press machine.
q) Control box. It was mainly used when coil run out and need to change a new coil and let the strips go though the straightening part at manual model.
r) HMI. The operator operate the machine and set data in this device.
s) Worm gear screw jacks device. It main used to adjust the height of feeding line.
t) Lubrication type: lubrication grease, manual grease bump lubrication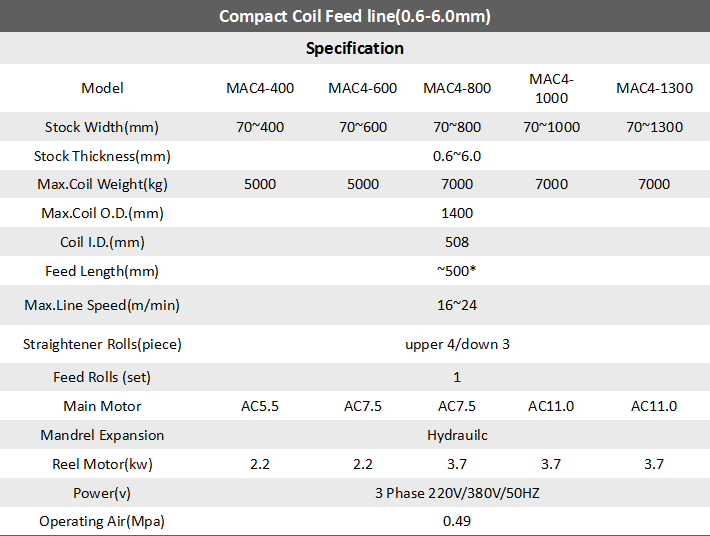 Remarks:
1)The above figures are the material having yield strength σs=245N/mm² ,Max. tensile strength σb=392 N/mm²)
2)Specifications are subject to change for improvement without notice.
Automobile stamping, appliances manufacturing, computer and electronic componets, hardware and metal parts etc industry.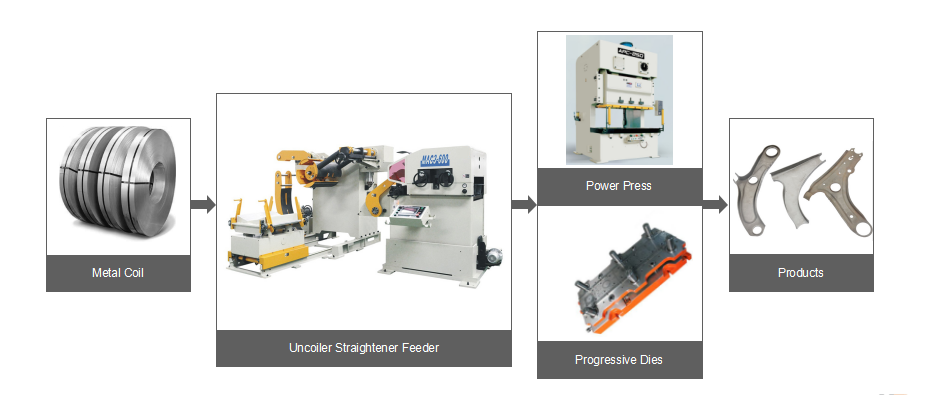 Automotive Parts: Bracket, Damper, Barke Pad, Tie Bar, Electric Accessory, Shell Parts Of Printers, Computer Frame,Slide Rail of Car Seat, Splash Shield of car body and etc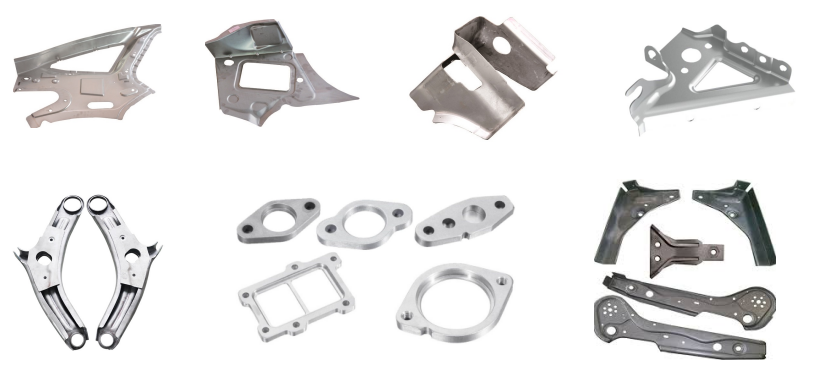 MAC4 Compact Press Feed Lines is working in our customer's factory.
Compact Press Feed Lines for making the bracket coil sheet feed line.
This machine is workinng in one of our customer's factory, they produce U type parts with Compact Press Feed lines.
With the Yaskawa Servo Systems and Mitsubishi PLC control, the feeding line can reach ±0.15mm feeding accuray.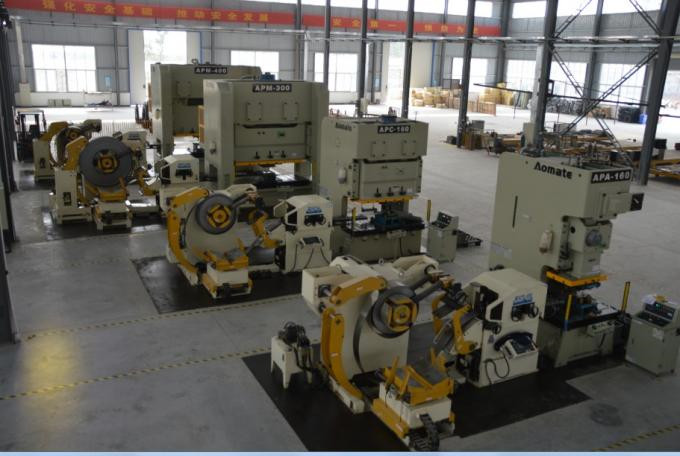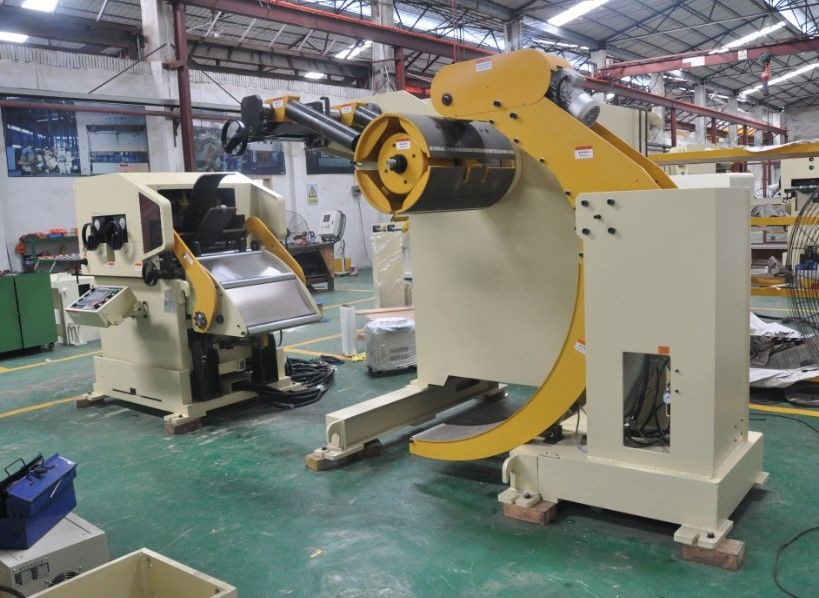 Looking for ideal Uncoiler Straightener NC Servo Feeder Manufacturer & supplier ? We have a wide selection at great prices to help you get creative. All the Compact Coil Feed Lines are quality guaranteed. We are China Origin Factory of Press Feeding System. If you have any question, please feel free to contact us.
Product Categories : Decoiler Straightener Feeder > Compact Feed Lines